Professional Cloud Based Antispam Solution by Spam Experts™
Email spam, viruses and malware is a growing problem despite many attempts to block well know threats. We are excited to have team up with our friends over at Spam Experts™ to offer an antispam solution which has helped many companies like yours fight spam before it even reaches your inbox. Our solution outperforms many of the competition, is easy to use and is enabled for as many users as you want!
Spam Experts™ Unique Strengths
Easy to Use – 
SpamExperts offers the most advanced system in the market that works out of the box and is super intuitive and compatible with all mail platforms. The user-friendly GUI has several access levels and options, while the client remains 100% in control over his email. It could not be easier!
Outperforms the Competition –
SpamExperts systems are in real-time sync with the central databases to receive the latest intel on spam and virus outbreaks. Moreover, the software is 24/7 monitored and managed by the SpamExperts team which continuously make sure that clients are receiving the latest features and enhancements so that the system is always performing at its best!
Friendly Support – 
SpamExperts is often praised for its fast, friendly, and focused support team. If you wish additional assurance, there are several Premium Support Contracts to choose from.
How Does the Incoming Filter Work?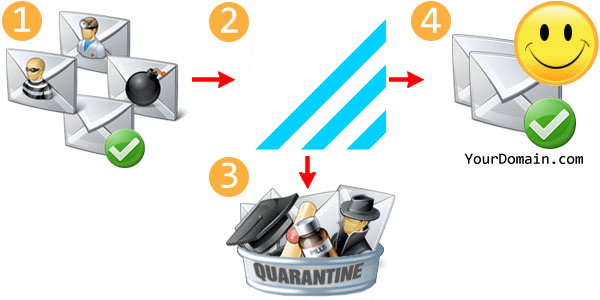 1 – Incoming, unfiltered email is sent to your domain. Along with the good email you want, it includes a barrage of spam, phishing and virus emails that you don't want.
2 – A simple change to your domain's MX record puts Spam Experts™ extremely powerful and remarkably accurate filtering service to work for you.
3 – The bad stuff is put in a "quarantine viewer" so that there's no chance of ever losing good email. In the unlikely event that a good message is blocked by Spam Experts™, it can be viewed in either the included shared quarantine or optional individual quarantine viewers.
4 – GOOD email is delivered to your domain without delay …BUT… the bad email is captured (quarantined) by Spam Experts™!
How Much Does it Cost?
| | | |
| --- | --- | --- |
| $1.95 monthly | $3.95 monthly | $4.95 monthly |
| 0 to 100 Mailboxes | 0 to 250 Mailboxes | 0 to 500 Mailboxes |
| Secure your network from spam, virus, phishing and malware attacks | Secure your network from spam, virus, phishing and malware attacksl | Secure your network from spam, virus, phishing and malware attacks |
| Detect outbreaks of new spam and malware immediately | Detect outbreaks of new spam and malware immediately | Detect outbreaks of new spam and malware immediately |
| Increase email continuity | Increase email continuity | Increase email continuity |
| Improve resource efficiency | Improve resource efficiency | Improve resource efficiency |
| Improve employee productivity | Improve employee productivity | Improve employee productivity |
| SIGN-UP HERE | SIGN-UP HERE | SIGN-UP HERE |